Monographic exhibition (2016)

In 2014 abd initiated a large-scale project on the work of Lucinda Childs. In this frame, the Centre national de la danse (CN D), the Thaddaeus Ropac Gallery, Pantin, and the Festival d'Automne, Paris, entrusted abd to curate the first monographic exhibition dedicated to the American choreographer.

Featuring more than 300 documents (choreographic scores, films, photography, texts), as well as unique works from artists with whom she has collaborated (notably Sol LeWitt, Andy Warhol, Robert Mapplethorpe and Robert Wilson) this exhibition traces three decades of a choreographic language whose elaboration has profoundly marked contemporary dance. Organised chronologically and thematically over 1,000m2 and two venues in Pantin, just outside of Paris, this exhibition permits to discover, beyond the masterpieces of the choreographer, the coherence of a work developed in New York's artistic scene.

In 1963, Lucinda Childs joined an informal group of artists, musicians and dancers who presented their work at the Judson Memorial Church. For the next three years, abandoning the conventions and vocabulary of modern dance, she created performances that combined everyday objects, precise gestures and ordinary narratives. These pieces ironically explored the new representations of the body that emerged in the popular new medium of television. A decade later, she continued these experiments in a close collaboration with Robert Wilson, working with him on the monumental opera Einstein on the Beach (1976), as well as two experimental projects in theater and television in which the subject dissolved in a flux of images, texts and gestures. The documents that the choreographer began collecting during the 1970s provide an insight into these hybrid works that predicated the emergence of postmodern dance.

In the early 1970s, taking advantage of an artistic and personal crisis that was affecting an entire generation of artists, Lucinda Childs developed a new form of dance, often described as minimalist or repetitive. Using pedestrian movements, these works were based on geometric patterns and rhythmic structures. Using a simple graphic method, she was able to create pathways based on serial structures, developing the repetitive logic of each movement. For a decade, Lucinda Childs' dancers formed the crucible for a repertoire of spectacular works, which she began presenting in the 1980s in collaboration with artists and composers. After performing works in alternative spaces, she rediscovered the proscenium and developed expanded forms of cinema. After her collaboration with Sol LeWitt for Dance (1979), Robert Wilson and Robert Mapplethorpe created two scenic designs that highlighted a renewed relationship to the image. Whereas her minimalist works presented dance in the intimacy of a shared space, her choreographies featuring projected images made it possible to measure and fill the space between movement and its representation. Dance acquired an enigmatic form of expressivity that bordered on sign language and movement.

In the course of her work, Lucinda Childs displays an interest in devices that permit new ways of perceiving the body proposing to awake the feelings. In 2016, the choreographer donated her archives to the CN D. This special collection, offers the opportunity to discover tools, technics and methods developed to generate a new perspective on dance. Lucinda Childs,Nothing personal (1963-1989) presents a synthetical view of this archive, enriched with prestigious loans from The Whitney Museum of American Art, The Andy Warhol Museum and the Sol LeWitt Foundation, among others.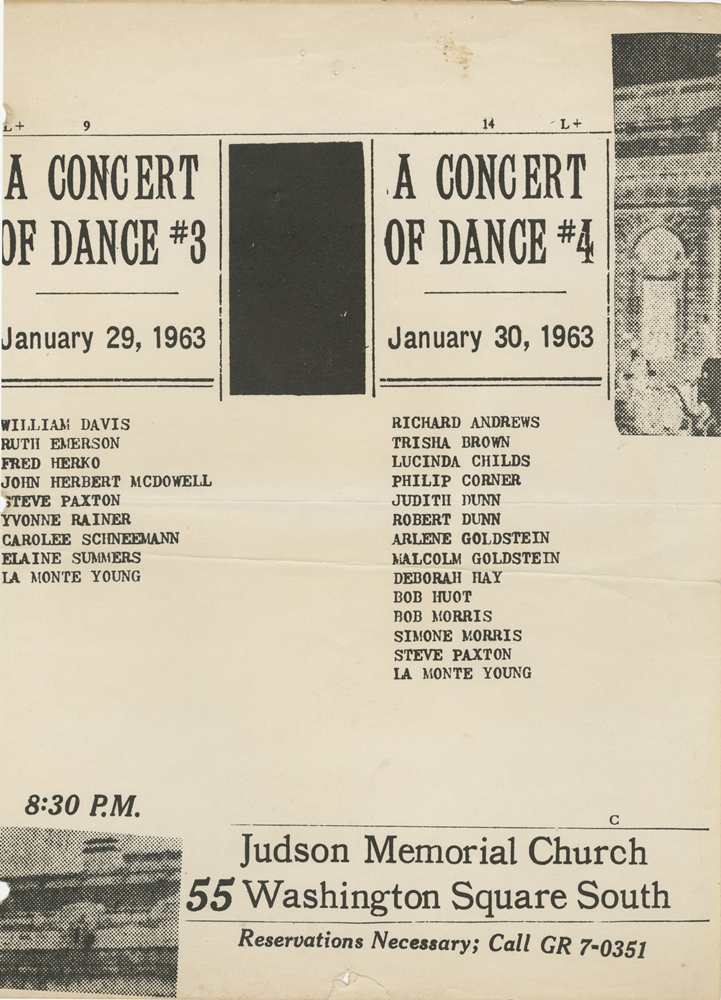 Judson Dance Theater, "A concert of Dance #3 and #4", 1964, black and white print, 28X20.5cm, fonds Lucinda Childs—Médiathèque du CND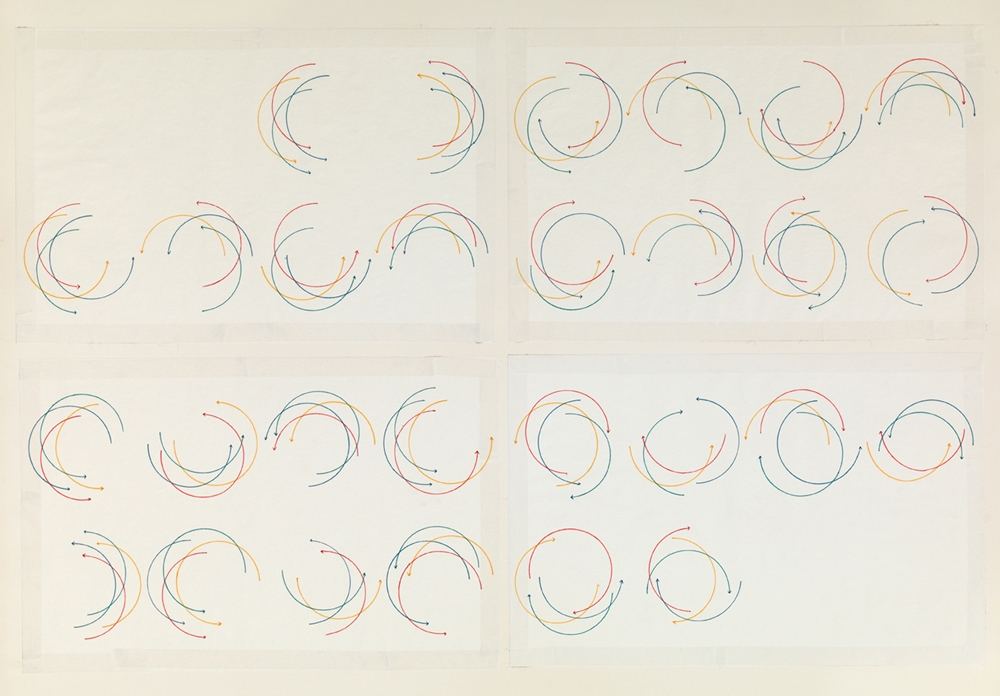 Lucinda Childs, Exhibition document Radial Courses (1976), ca.1976, ink on paper mounted on board, 59.9x72cm, fonds Lucinda Childs—Médiathèque du CND, courtesy Lucinda Childs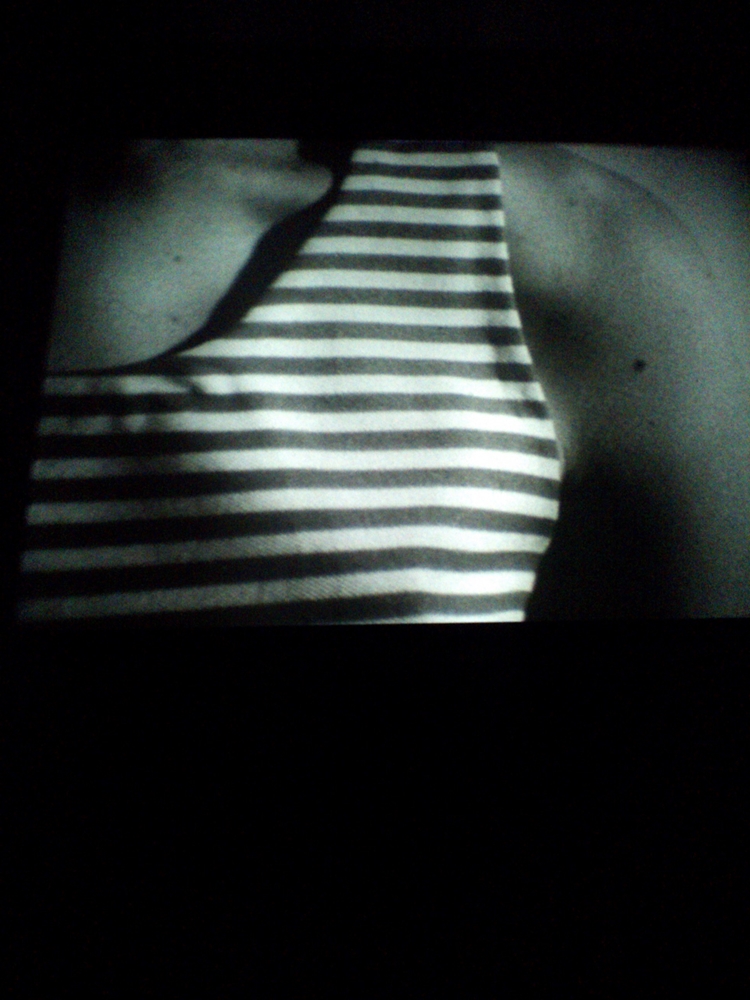 Andy Warhol, Still from Shoulder, 1964, original format 16mm black and white, courtesy Andy Warhol/ The Andy Warhol Museum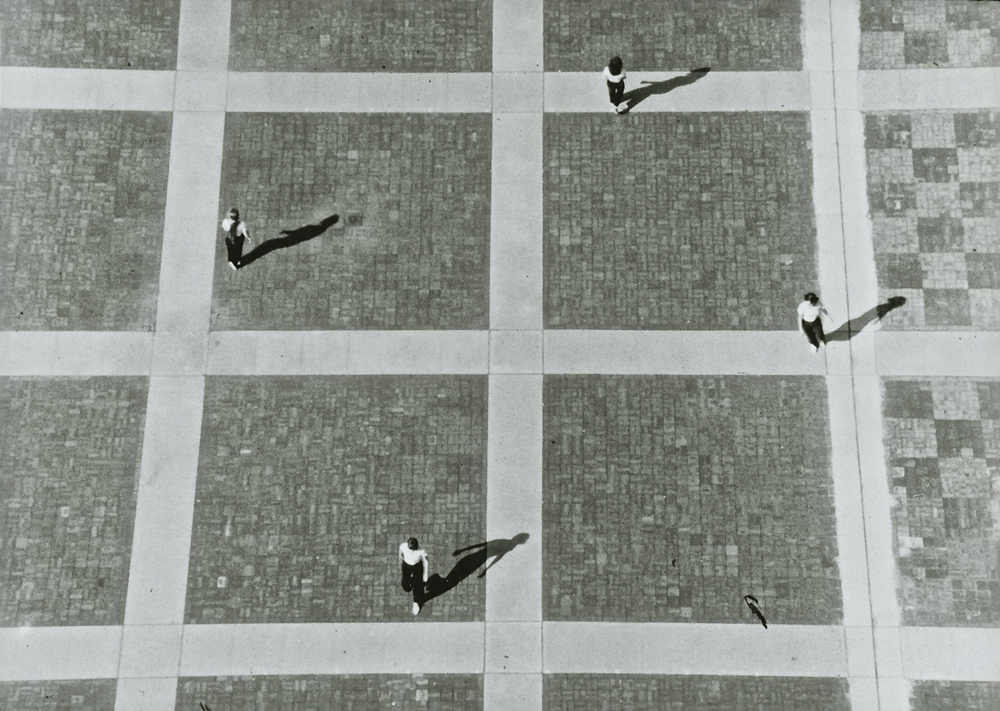 Babette Mangolte, Calico Mingling (1973), 1973, with Susan Brody, Lucinda Childs, Nancy Fuller and Judy Padow on Robert Moses Plaza, New York, gelatin silver print, 20x25cm, fonds Lucinda Childs—Médiathèque, © 1973, Babette Mangolte, courtesy Babette Mangolte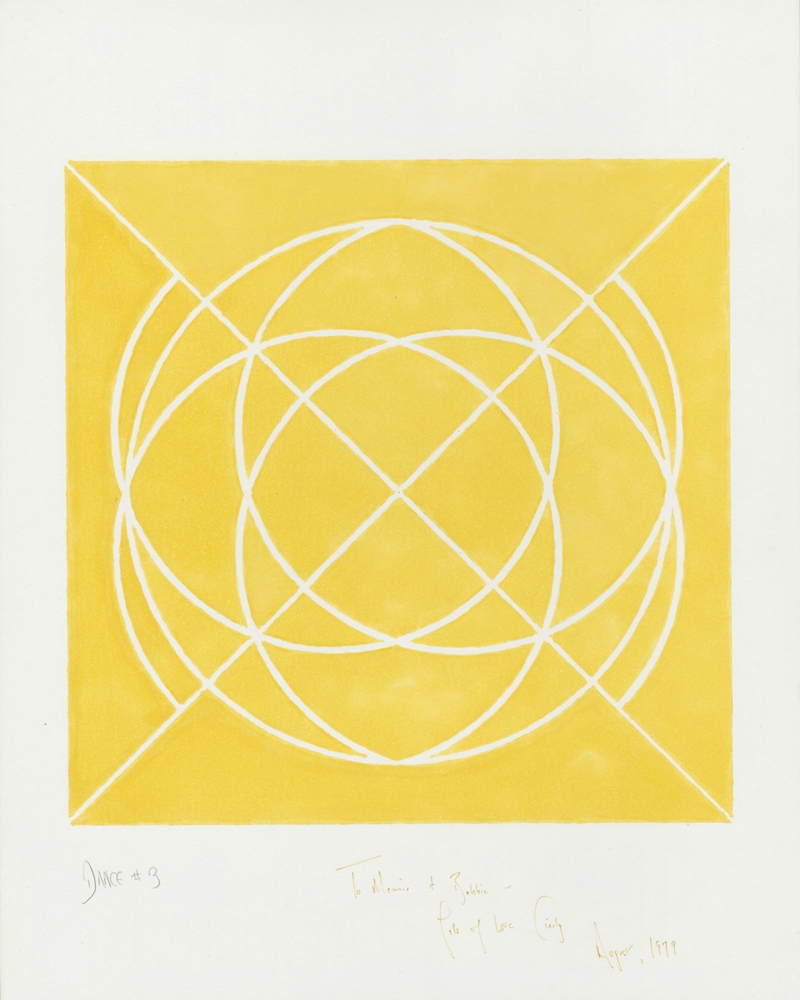 Lucinda Childs, Diagram Dance#3 (1979), 1979, felt pen on paper, 35.6x27.9cm, fonds Lucinda Childs—Médiathèque du CND, courtesy Lucinda Childs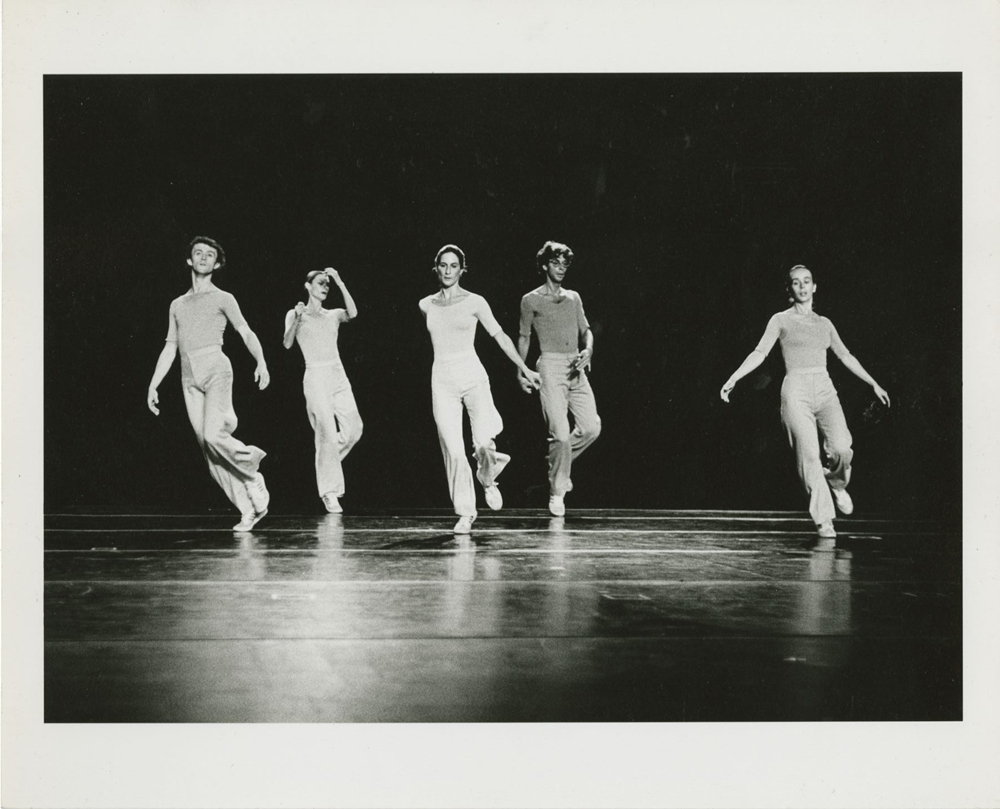 Nathaniel Tileston, Melody Excerpt (1977) with Cynthia Heldstrom, Lucinda Childs, Judy Padow, Andé Peck, Daniel McCusker, at Brooklyn Academy of Music, New York, 1977, gelatin silver print, 20x25cm, fonds Lucinda Childs—Médiathèque, courtesy Nathaniel Tileston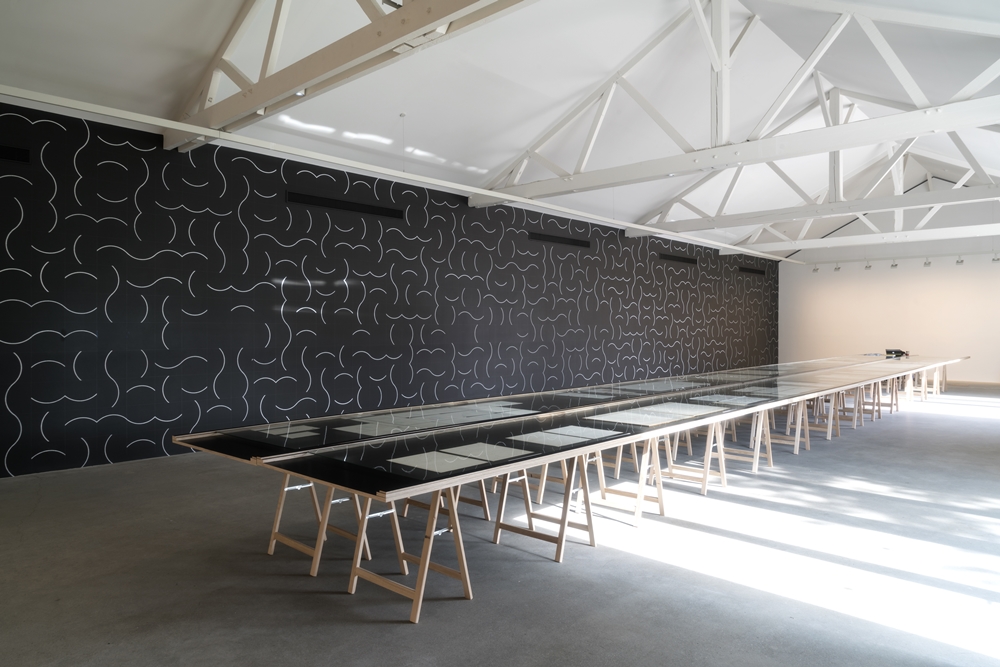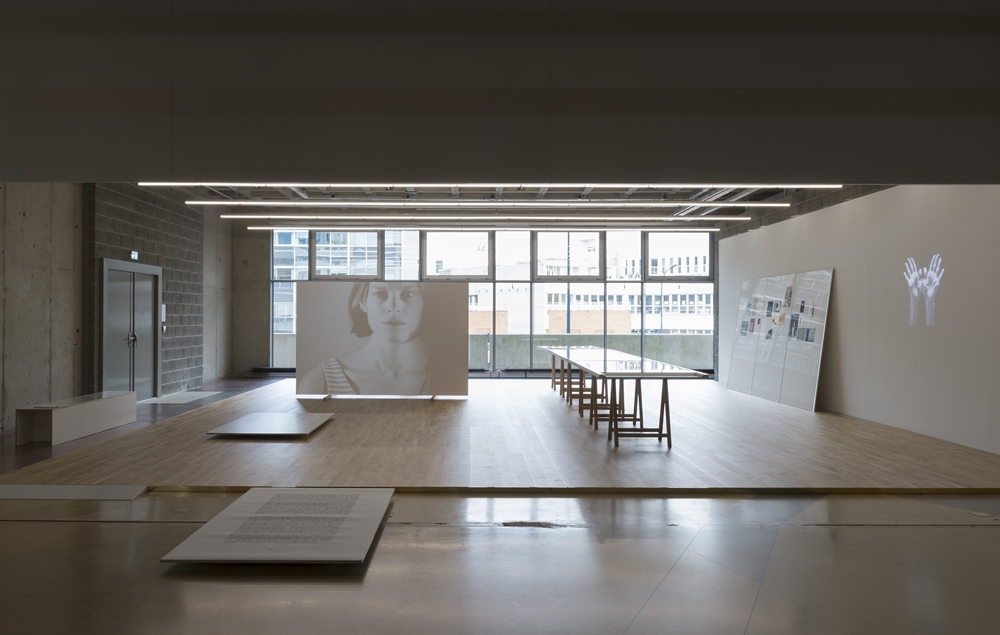 Curator: Lou Forster
Exhibition Design: David Dubois
Graphic Design: Pernelle Poyet
Production and realisation: CN D Centre national de la danse and Thaddaeus Ropac Gallery
Production and distribution: Festival d'Automne à Paris and abd

Generous founding is provided by Fondation d'Entreprise Hermès

Photos: Marc Domage